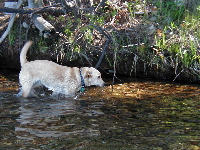 Well almost a whole week has passed since my last gripping update, and I bet one or two people are wondering how it all went…
Overall it was a very nice weekend, although too short. I wish I could've spent a week or two hanging out with my lady and my puppy.
And to answer the questions from the last post:
The ice was off the lake
I fully entered the very cold water, and my skin burned for 20 minutes after I got out.
I shot a 52 at Pecks Wildwood.. not too bad (for me)
Yeti loved the water, and after walking right off the end of the dock (she thought it was shallow, I suppose) figured out how to swim right away
All I have to say is, 659.5 miles, 13.4 gallons, 49.1mpg


Answers from the weekend by apple juice is licensed under a Creative Commons Attribution-NonCommercial-ShareAlike 4.0 International License.