I had a little sports-related injury a week ago. I just started playing indoor soccer, and I managed to catch my foot in some strange and un-natural way as I was running after the ball.
I'm compelled to share a picture: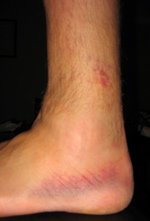 A co-worker wanted to see the ankle the other day, so I pulled up my pants a few inches, and she said.. "Is the ace bandage keeping it stable?"
"Ummm, it's not wrapped," I replied.
But that was a week ago, now I'm hobbling around without the crutches, but i don't think I'll be back on the artificial pitch again this season!
Ah well, more time for vids.