Our big Christmas present to one another this year was cross-country ski equipment. We were looking for something we could do with the whole family! Since the family also includes Yeti the wonder dog, we got her set up with some Skijoring equipment at midwest mountaineering.
Yeti is not the most athletic / coordinated dog in the world, but she does love to run and pull, so we figured we'd give it a shot.
First she had to try on the booties, which she was a little unsure of. Ultimately though, she was moving around the house with ease and finding that she had much more traction on the wood floors.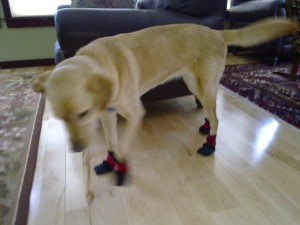 Next, we got out on the skis:
And then finally, some skiing! Yeti did quite well, and I think it will be a fun new sport to do in the winter!