We were in Park Rapids this weekend for a family event and took a side trip Sunday for a scenic bike ride from the Itasca State Park Visitors Center to the headwaters of the Mississippi river.
The route winds through the mature forest in the park. The colors of fall were everywhere. The leaves were just about at the peak of color, as far as I could tell. The weather cooperated nicely, providing some cool weather, a light breeze, the sun popping out here and there, and a quick shower to top it all off.
There were actually surprisingly few people at the actual headwaters, so we were able to snap some photos of the kids crossing the mouth of the river.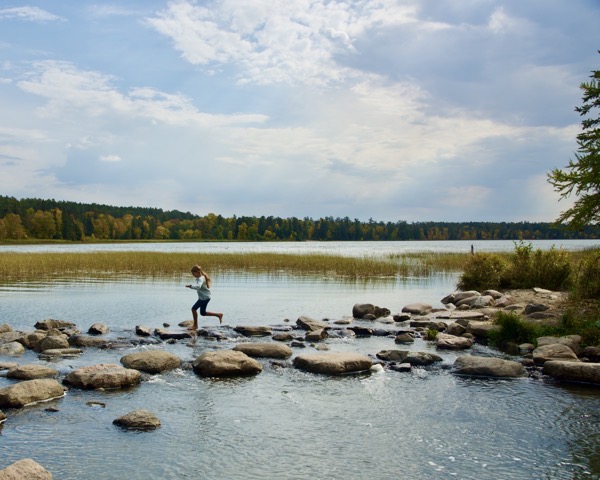 Honestly, to stand there and think of the mighty Mississippi starting from this six-inch deep river was quite a moving experience. The drive back to Minneapolis crosses and parallels the river multiple times, and it's no more than 60 miles away and the river has widened many times its original size.
We biked back to the Douglas lodge and enjoyed lunch on the last day of the season. The walleye sandwich was a ridiculously large filet – highly recommended!
All in all, quite fun to visit another one of Minnesota's state parks. I recommend the trip to anyone if you haven't been there yet!